---
Different International Types of Foosball Tables
There are six core variations of tables around the world (let's focus on three of them). These styles are American, Czech, French, German, Italian and Spanish. The below information provides a high-level overview of three of these different types of table construction and playing styles by country.
---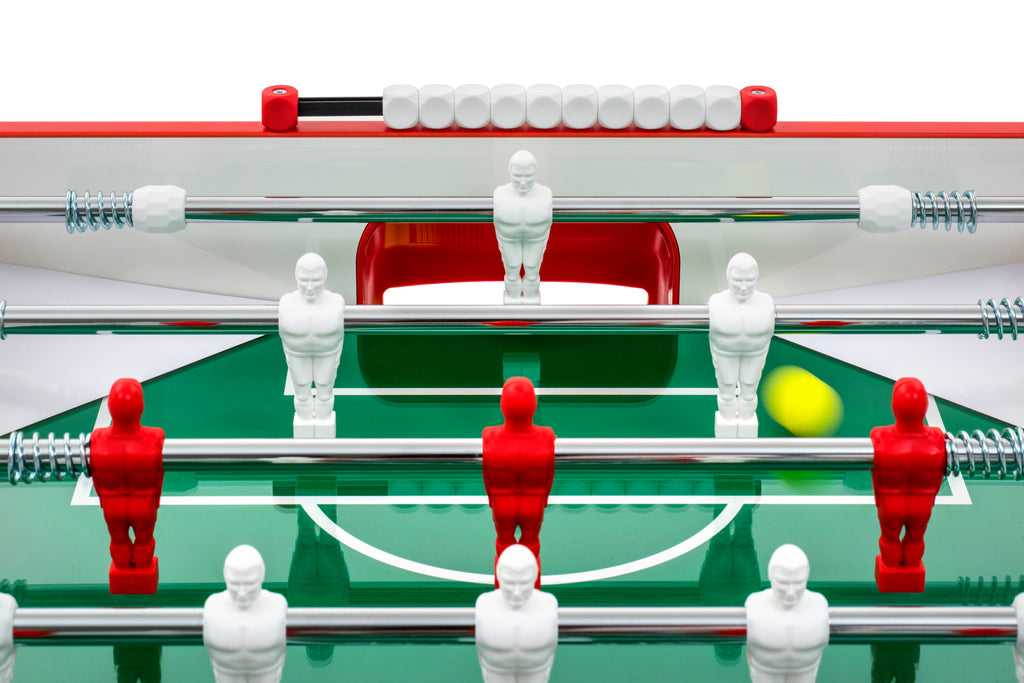 ITALIAN STYLE
Common Names
In Italy the most used names for the game are biliardino and calcio balilla (table football).
Italian Playing Style
The style of play is dictated by the materials used to construct the table. Since Italian design is made with slippery materials, this tends to make the game fast and free, with an emphasis on fast reactions. Pinning the ball is difficult on these slick surfaces but is not impossible, so it has started to gain traction among pros in addition to the standard quick reaction slap shooting.
In fact, Italian rules actually support this fast-paced and reactionary style of play with the following rules:
● Only one touch per rod, if the ball is stopped/controlled it must hit the wall before being advanced via a pass or shot
● No passing is allowed along the same bar or any lateral moves such as push or pull shots are allowed
● If the ball is pinned it is re-served (thrown down the middle to hit the back wall in doubles or restarted from defense in singles)
● In singles when shooting from defense, lifting of the midfield or forward men is not allowed
Italian Table Design Characteristics
All our Italian style table features "telescoping" rods that don't protrude out of the other side. Parents love this design feature because it is safe for their kids who might otherwise get hit with a rod coming through the table. Many people recognize Italian tables by the common glass top with red and blue players. A plastic ball accompanying the slippery glass playing surface ensures for a game that is very hard to control. This falls right in line with the style of play and can be described as reactionary rather than strategic. The construction of these tables vary greatly and probably spurs the most controversy out of all styles of play.
Most tables also have single man goalies and springs that bounce off the ends of the table when the rods move in and out. This is different than bumpers that dull the bounce, and adds to the randomness of the game. However, not all Italian manufacturers have the same design. Some tables are works of art with beautiful see-through glass that are made for designer homes.
Italian Foosball Table Manufacturers
Canada Billiard
Master Speed
FAS
FABI
Roberto
---
FRENCH STYLE
Common Names
In the French language the game is called baby foot. This essentially translated as miniature football and is referred this way in France as well as Quebec, Canada.
French Playing Style
Due to the extra "tackiness" from the cork balls and blocked feet, French play is described as finesse and fluid. The ball can be maneuvered from a pinned position and "walked" from side to side in order to complete a pass or a shot. It is easy to pin the ball between the man's foot and the playfield without losing it, so most shots and passes performed on these tables are executed from the pin position.
French Table Design Characteristics
French tables typically are identified by having "telescoping" rods that don't protrude out of the other side. Parents love this design feature because it is safe for their kids who might otherwise get hit with a rod coming through the table. Their men are made of metal or aluminum along with a cork ball and softer and grippier play field surfaces.
These softer playing surfaces are made out of materials like linoleum and are known as "clay courts". This transforms the style of play to the complete opposite end of the spectrum from German and American styles. The men are heavy (non-balanced) and it is combined with a very light and soft cork ball that essentially stamps it down on the table and makes it easy to maneuver. Couple that with the clay court surface and you have a sticky feel that is great for pinning and finesse play.
French Foosball Table Manufacturers
Master Speed
René Pierre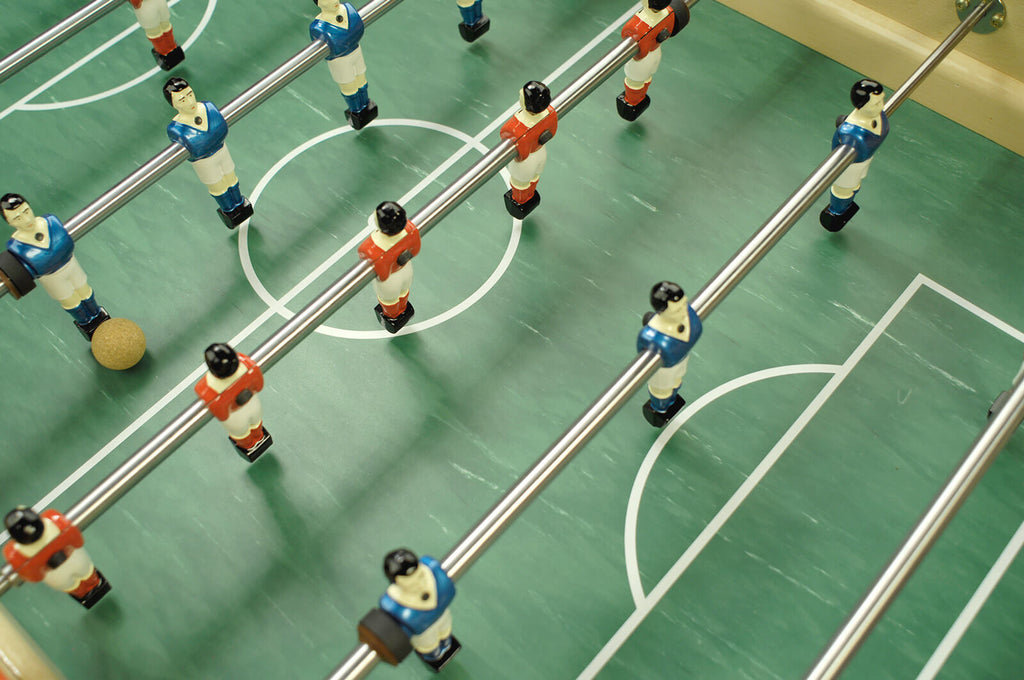 ---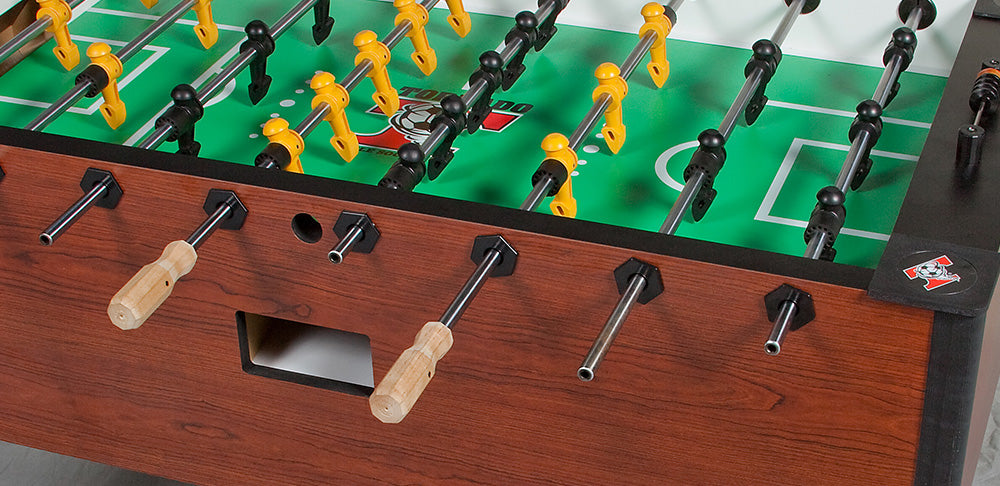 AMERICAN STYLE
Common Names
In America, the game is referred to as: foosball, foos, table football, bar football and table soccer.
American Playing Style
The style of play focuses on passing, ball control and executing your shot. You have the ability to pin the ball through textured or cross-hatched toes on the men or play a fast game where shots can begin from side position against the man, making this a hybrid playing style. Pros spend years perfecting their single shot (typically the pull or snake shot) to be consistent and quick. You literally have to predict these because you have no chance of racing it. Having a buttoned up defensive strategy is they key to defending a pro American player.
American Table Design Characteristics
This style is known for its overall boxy and straight legs. Manufacturers focus on function over form which causes the aesthetics to lack compared to its European counterparts. The playing surface is made out of a hard material which facilitates speed and rigidity. They were born from European design but have since developed their own cross style between German and French design.
American table design has the most widespread range of quality out of any other country in the world. Some manufacturers build plastic toy models for kids, others build pieces to match furniture woodwork and another segment focuses on the best tournament play. Many brand names have consolidated over the years and are actually owned by the same corporate entity that keeps their branding. You might be playing on the exact same model with simply a different brand on it and you would never know.
Most modern American tables have 3 man goalie rods with flat corners as opposed to the more traditional single goalie setup. Tornado is the most respected American table brand and is present at nearly all tournaments. Some smaller tournaments have started to recognize the Fireball brand as well.
American Foosball Table Manufacturers
Dynamo
Great American
Holland Bar Stool
Shelti
Tornado
---